Produce Traceability Initiative (PTI) / Produce Tracking Labels
Symbology, Inc. is on the leading edge of PTI - produce tracking / food tracking label implementation. For many growers, packagers and distributors, our PTI Solutions and traceability labels offer an efficient, economical answer.

Symbology's PTI expertise and real world experience help clients implement PTI in the most cost effective and accurate way. We'll work with your existing systems and ensure that your produce tracking barcodes conform to requirements.
PTI for fresh produce requires a machine readable barcode in three different modes:
Case barcode with A.I. (01) GTIN-14 and A.I. (10) lot/batch barcode
Hybrid Pallet Label that contains an A.I.(00) SSCC-18 barcode
Count-of-Items Label containing A.I. (02) GTIN-14 of a contained item, A.I.(10) Lot/batch code, A.I. (37) Quantity of this item on the pallet. This label is placed above the SSCC-18 barcode on the Hybrid Pallet label
We provide a variety of labeling and identification solutions to fit individual client needs. Easy to implement Print-on-Demand label systems with Smart Printers (including produce software) often best suit small to mid size growers/shippers. Our Pre-Printed Labels and unique application tools are a great fit for producers with larger volumes or unique processes.
Additionally, we offer unique label materials to function with challenging surfaces such as RPCs and Waxed Boxes.

Our PTI Consultants can help you select the simplest system for you, and guide you through implementation.
For PTI Details, visit our PTI Technical Information page.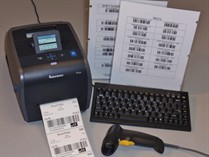 View our PTI Label Applicator video, PTI EZ Solution or PTI On-Demand Field Demo video on YouTube!